Right Man, Right Now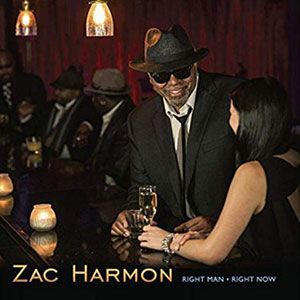 Chicago Blues Guide
by Eric Steiner
I've always been a fan of Zac Harmon; we volunteered together on the Board of Directors of The Blues Foundation in Memphis for one three-year term, and several years ago, I flew to Dallas to see this Texas-based bluesman play live at the upscale and elegant Brooklyn Jazz Café. (Sadly, that venue closed last year). Zac Harmon's 2015 debut on Blue Pig Records, Right Man Right Now, features nine originals or co-writes and two covers -- my favorites include the opening original "Raising Hell" that features Lucky Peterson with a lively organ solo and Anson Funderburgh adding some fiery Texas blues guitar to complement Zac's fluid lead guitar lines.

Bobby Rush adds his unmistakably feisty vocals and emphatic Mississippi saxophone to Zac's pleading vocals on the decidedly funky "Hump in Your Back" that also features the lively horn section of San Diegans Les Kepics (from Haute Chili) on trumpet and Chuck Phillips (from The Mighty Untouchables) on sax.
Lucky, Anson and Bobby, plus 11 other guest musicians join Zac Harmon's band on Right Man, Right Now: Mr. Buthel plays bass, Cedric Goodman plays drums and Cory Lacy sits in on keyboards. Right Man, Right Now is Harmon's sixth CD, and just like its 2012 independently-released predecessor, Music is Medicine, showcases some insightful and memorable blues songwriting from an artist who turned his attention to the blues, full-time, over ten years ago. Prior to that, Zac did studio work in California for movies, TV and music, produced the O'Jays, Evelyn "Champagne" King and a Grammy-nominated release for reggae's Black Uhuru. His return to his first musical love was auspicious; representing the Southern California Blues Society, Zac Harmon and the Mid-South Blues Revue won "Best Unsigned Band" honors at the 2004 International Blues Challenge in Memphis. 
Two songs will resonate with blues fans who follow the news about shootings that, sadly, continue to capture newspaper headlines and devastate communities across the USA. The funky "Back of the Yards" and the slow blues of "Stand Your Ground," each co-written with songwriter and manager John Hahn, not only highlight Harmon's sweet tenor vocals and fluid guitar playing, but each song also offers up some prescient observations on the proliferation of shootings that impact many urban neighborhoods in America. 
"Back of the Yards" laments the impacts of poverty and violence in a Chicago neighborhood that once played a key role in the abundance associated with the union stockyards on the South Side, until the prosperous union meatpacking jobs left in the early 1970s. Fortunately for the neighborhood, the Back of the Yards Neighborhood Council, founded by Saul Alinsky and Joseph Meegan in 1939, continues to pursue equality for new generations of predominantly Hispanic immigrants who call the Back of the Yards home. Unfortunately, this is one of Chicago's most dangerous 'hoods with killings of innocent bystanders a frequent occurrence.  
Harmon's "Stand Your Ground" refers to a Western legal doctrine that allows an individual to use deadly force when he or she is faced with a real or perceived threat. In America, many states have laws on the books that permit the use of deadly force; controversial use of that law played a part in the trial over the death of Trayvon Martin in Florida.  
On his update of John Lee Hooker's "I'm Bad Like Jesse James," Zac's vocals, thankfully, stray far from the polished and smooth dulcet tones that flow on most of the CD; he's obviously reveling in the opportunity to adopt a "bad boy personae" to deal with another historical, nefarious  archetype named Jody (as in "Jody's got your girl and gone").  
The origins of the so-called "Jody myth" likely have roots in World War II when soldiers and marines deployed overseas sang rhyming cadence during physical training; one such ditty was about a man back home who would help out lonesome brides on the home front. (I remember singing "Ain't no use in goin' home, Jody's got your girl and gone / Ain't no use in goin' back, Jody's got your Cadillac" during PT in basic training at Fort Dix, New Jersey in the 1980s). Zac's character in "Jesse James" has a buddy just like the mythical Jody who is up to no good with designs on his wife; this sure is a mischievously fun blues song with Zac taking on a new personae as a badass who knows how to dispose of back door men.  
On the title track, Harmon acknowledges that he's "not Mr. Right, but the right man, right now," but that's part of his approach while on-the-prowl for female companionship late at night. Like many songs on the CD, this song is structured around Zac's fluid guitar attack coupled with his polished vocals. There are also slow blues songs aplenty on Right Man, Right Now, including a love song to a partner who anchors him in "Feet Back on the Ground" and the slide-fueled, up-tempo number about a relationship that simply just doesn't work, "Ball and Chain."  
For me, the deep-hued, elegant photography from Darren Carroll sets a new standard in blues photography: the cover of Zac Harmon taken at the Brass House in Austin is memorable as the interior and back cover shots. I thoroughly enjoyed Right Man, Right Now from start to finish and this CD will likely be one of my favorite contemporary blues releases for 2015.
Right Man, Right Now
Vintage Guitar Magazine
by Rick Allen
The blues has often called out injustice and shined the harsh light of truth as much as it has lamented broken hearts or celebrated the joys of sex. Zac Harmon's "Stand Your Ground" is the showpiece here, rooted in the social protest that has been part of the blues since before the music had a name, a product of the labor of American slaves as much as any crop or craft work. 
Harmon sings the song with an R&B vocalist's cool but without sacrificing passion and expression. His slide guitar is a stiletto with nuances, a sabre for making slashing cuts that go right to the bone. 
On the title cut Harmon plays straight guitar and the reward is that several times he hits that elusive sweet spot where one judiciously pinned note sends a charge from your tailbone right through to the top of your skull. 
By the time Harmon gets halfway through the record with "Feet Back On The Ground," he's in rarefied air despite the song's title – and that's pretty much where he stays for the majority of this album.
Music Is Medicine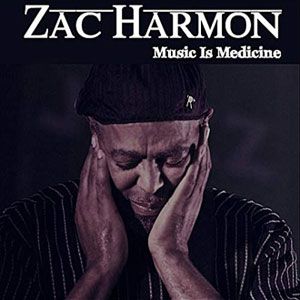 Friday Blues Fix Blog
Music Is Medicine -Ten Questions With Zac Harmon
by Graham
Zac Harmon was born and raised in Jackson, MS, cutting his musical teeth at Jackson's historic Farish Street District.  As a teen, he gigged with local legends like Z.Z. Hill, Sam Myers, and Dorothy Moore.  He moved to L.A. in the 80's and worked as a studio musician, writer, and producer for artists like the O'Jays, the Whispers, Alexander O'Neal, Karyn White, and Black Uhuru.
Though he enjoyed success, Harmon longed to return to his blues roots and, in 2002, he released a live disc, Live at Babe & Ricky's Inn, a strong release that put Harmon firmly in the "Next Generation" of blues artists.  In 2004, his band won the IBC's "Best Unsigned Band" award, and followed up that release with 2005's impressive The Blues According to Zacariah, which won the BMA for Best New Artist Debut in 2006.  The disc mixed the blues with R&B, gospel, funk, reggae, and soul.  Harmon followed up with a pair of releases, 2008's Europe-only Shot in the Kill Zone, and 2009's From the Root.  
He's done a lot of other things in the interim, acting in the movie, Black and Blue, participating in the Bluesapalooza tour of Iraq and Afghanistan in 2008, and touring Sicily, Italy, and Egypt as part of the "Pizza and Pyramid Tour" in 2009, even performing on site at the Great Pyramid and the Sphinx.

Recently, Harmon released what is probably his best CD to date, Music Is Medicine.  His music has always been biographical at times, but Music Is Medicine is probably his most personal album yet, with songs like "Grandma's Prayer," and "Country Boy."  There's a healthy dose of R&B on tracks like "Miss American Girl" and "Talk To Me," and Harmon shows some sizzling guitar skills on tracks like "Blue Pill Thrill," "Running From the Devil," and "Drowning in Hollywood."  I figure you'll be seeing this disc on a lot of Top Ten lists at the end of the year....mine for sure.  This is some great stuff.
Mr. Harmon was gracious enough to sit down and answer Ten Questions with Friday Blues Fix this week and we appreciate it very much.  Check it out below.