Everywhere I have traveled in the world, the blues has been a beacon of peace, understanding and good times. The blues is America's most positive export. I look forward to seeing you soon. God Bless.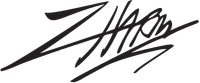 Zac Harmon Releases New CD - Long As I Got My Guitar
Zac Harmon's latest CD titled Long As I Got My Guitar released on Catfood Records.
Harmon says, "This CD is the result of two years of reflection and loss. This CD represents getting started again."
 
0:00/3:49

0:00/3:23

0:00/4:36
Long As I Got My Guitar Hits #1 On the Soul/Blues Chart!
Zac Harmon's 'Long As I Got My Guitar' Released on Catfood Records
Listen to Zac Harmon's Music on the Couch Interview
Making A Scene Presents An Interview With Zac Harmon
Mississippi BBQ Reviews Are In!